Most of us wish to have a skin that is flawless and glowing, but we often find ourselves with dry, dull, lifeless skin that is prone to acne and pigmentation; thanks to our unhealthy diet, polluted air, stress and let's not even get started on the complete absence of a decent skincare regime from our lives! With so much chemical mumbo-jumbo happening to our skin already, why not give the regular beauty products a skip and try these natural remedies? Read on to find out 6 natural face masks for glowing skin!
 1. Honey and Milk
Mixing honey with milk is a great face pack for a radiant skin. While honey helps remove acne and pimples, milk gives you that baby soft texture. You'll need:
Add a table spoon of milk with one table spoon of honey and mix it well. Dab on your clean face using a cotton pad. Leave if on for about 15 minutes and then rinse off with normal water.
Potato Mask
Potatoes are known for naturally clearing skin by removing tanning, reducing age spots and pigmentation. Talk about wholesome goodness in one go, eh? You'll need:
Combine 1 spoon of mashed potato with half tablespoon of yoghurt. Mix the paste and apply liberally on your face. Let it set for 15 minutes and wash your face with cold water.
Turmeric and Gram Flour
Turmeric mixed with gram flour works amazingly for nourishing dry skin and making it glow. It also removes the impurities and dead cells from the skin. You'll need:
1 tsp Turmeric
Gram Flour
Milk
Take turmeric paste and mix it with gram flour in a glass bowl and add 1 tablespoon of milk to it, blend well. Apply the pack on a clean face, keep it for 15 minutes. Wash off thoroughly with water.
4.  Banana Honey Pack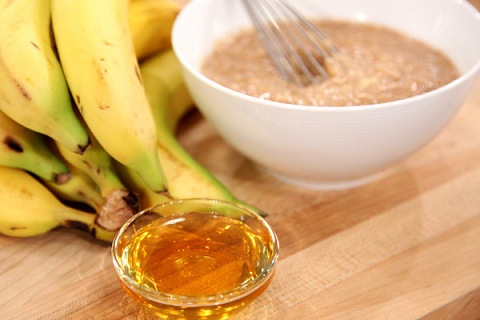 Bananas work wonders for oily, acne prone skin as it is packed with antioxidants and potassium that naturally help combat acne. And honey helps to keep skin perfectly hydrated. You'll need:
Banana
Honey
Cinnamon powder
Simply take an overripe banana and mash it, then sprinkle in the cinnamon powder and add 2 tablespoons of rich honey. Mix it all together and apply to freshly cleansed skin. Leave on for 10 – 15 minutes and then rinse off with lukewarm water.
5. Oatmeal Face Mask
Oatmeal mask has a drying effect on skin and absorbs extra oil from the pores and also cures itchiness. Since it has a nourishing and exfoliating capability, it can also be used as a gentle scrub. You'll need:
Oatmeal
Honey
Lemon Juice
Yoghurt
Blend oatmeal and add hot water to it. Remember, you want to maintain a thick consistency. Add a teaspoon of honey, a tablespoon of lemon juice and two teaspoons of yoghurt to the mix. Apply this paste evenly on your face. When the face mask completely dries and tightens around your skin, rinse it off with lukewarm water.
6. Avocado-Egg White Mask
Avocados are great for skin. They are rich in antioxidants and healthy fatty acids that rejuvenate the skin from inside. Vitamin E in the avocado protects the skin from the UV rays of the sun. Egg whites, on the other hand, are a cheap source of high-quality protein that is beneficial for skin health. This mask is perfect for those with patchy and dry skin. You'll need:
Avocado Extract mixed with water
Egg white
Honey
Mix 1/4 Avocado extract, 1 egg white and 1 tablespoon of honey thoroughly and apply it to your face. Let the pack dry for 15 minutes, and later wash it off with cold water.
We hope you make these awesome natural home made face masks without trouble and let us know about your experience with these masks in the comments! Happy Masking!